New Patients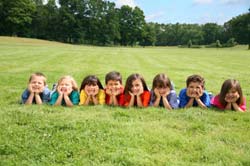 Welcome to Roswell Pediatric Center where "Your Child Is Special." Choosing the right pediatrician is one of the most important things you can do for your child. By selecting Roswell Pediatric Center, you can feel comfortable that you have made the best decision. We go beyond taking care of children when they are ill. We emphasize maintaining their health and monitoring their growth and development.
Who are we?
At Roswell Pediatric Center, we provide comprehensive care for infants, children and adolescents. Our board certified pediatricians are supported by our nurse practitioners, as well as a team of nurses and clinical assistants. As a group practice, we ensure that your child receives prompt medical care and that we are available to meet your needs. All of our locations are integrated with secure computerized patient records which increase our efficiency and patient safety.
Infant and Child Care Handbook
Parents of new babies can download and print the "Infant and Child Care Handbook" to learn more about the care of your new arrival.
Expecting Parent Open House
The doctors and nurse practitioners at Roswell Pediatric Center offer an "Expectant Parent Open House" to get acquainted with one of our providers and our office. Each open house normally lasts about an hour.
Watch the video below to learn more about Roswell Pediatric Center and what to expect after you deliver your baby.
What do I bring to the first visit?
A parent/guardian's photo ID (This to protect your child's medical records)
Your child's insurance card
Medical records from your previous pediatrician - we will enter the data and scan the records into your child's Electronic Health Record and return the paper copies to you
Video Tours of Our Offices
Alpharetta Office
Crabapple Office
Cumming Office