Expecting Parents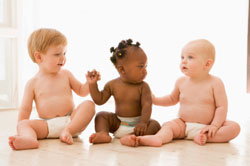 Congratulations! Becoming a parent is one of the most rewarding experiences in your life. Choosing the right pediatrician is one of the most important things you can do for your child. At Roswell Pediatric Center, we emphasize maintaining good health and encourage growth and development throughout the formative years of a child's life.
Watch the video below for an introduction to our providers and our practice.
Newborn Booklet
What to Expect at Roswell Pediatrics
Watch the video below to learn more about Roswell Pediatric Center and what to expect after you deliver your baby.
Expectant Parent Open House
The doctors and nurse practitioners at Roswell Pediatric Center offer an "Expectant Parent Open House" to get acquainted with one of our providers and our office. Each open house normally lasts about an hour. Please see the schedule below and choose a date that best suits you, then call our office to schedule your appointment to meet us.
Space is limited. You must call to make an appointment.
Due to COVID-19 we will be hosting all Expectant Parent Open House session via Zoom.
November

Date
Time
Office
Location
Hosting Provider
Wednesday, November 29th
6:30PM
Zoom
Andrea Klopman, MD