Well Child Care
Seeing children and parents at regular intervals is important in maintaining your child's health, evaluating growth and development, discussing safety, nutrition and behavior, and answering questions. If your child has any special needs, you may need to visit us more often.
Camp & Sports Physicals
Some camps and sports programs require physicals and/or forms for your child to participate, and we are happy to help. As we tend to book our check-ups far into the future please call our office as early as possible to schedule your child's check-up.
Wellness
Maintaining wellness is just as important as treating illnesses when they do arise. We will help you keep your children healthy by providing you with current information on issues such as vaccinations, nutrition, development, and safety, to name just a few.
Check-ups & Vaccines
Sick & Well Entrances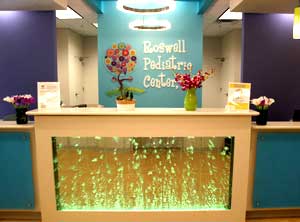 We offer separate sick and well entrances and reception areas at all three of our locations. We ask that you limit the number of guests that accompany you and your child on an office visit. Seating is limited in our reception area and your guests might be exposed to illnesses.
Please do not leave children unattended in the reception areas. We request that you not bring food or beverages (other than formula) into the office.
All three locations provide a smoke free environment. Smoking is prohibited anywhere inside the facility.
If you suspect your child is ill to any degree please be considerate and keep your child in the sick reception area. If you think your child has chicken pox and needs to be seen, please discuss entry into the facility with each location staff prior to coming in.
We do not keep toys in the reception areas because they are not practical with the many sick children we see throughout the day. The risk of transmission of germs is too great. We tidy up and disinfect our reception areas twice a day. We encourage you to bring your child's favorite books or small toy to help them be entertained and more comfortable during the visit. We also provide TV viewing rooms with movies for the kids to watch.
What to Expect
In the practice of pediatrics we rely on parents and patients to provide us with information. We ask that you come to office visits with your child. We will listen to your purpose for the visit, and to any concerns you have. We want to work together with you and your child. We are here to serve you and your family with state of the art medical treatment and compassionate care.
You have the right to ask your practitioner and/or any staff member any questions you have about your child's health and medical treatment. We believe open, comfortable communication is very important in providing the best quality medical care. Your child's health and peace of mind are our greatest concern.
As we see your child for well care we will provide you with an update on your child's immunization records and growth and development data. This record is important to keep at home. From time to time you may need these records when our office is not available. Your child's medical records are maintained with strict adherence to patient confidentiality laws.
Schedule of Check-ups & Vaccines